Our Services:

World Trade Center Warsaw - Ambassador Club
The World Trade Center Warsaw in cooperation with the Polish Chamber of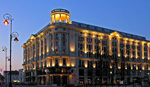 Commerce has established the Ambassador Club of Poland which has operated since 2009. The Mission of this Club is to foster economic ties, cultural links, and friendship, by bringing together foreign ambassadors and diplomats with Polish VIP guests from Politics, Culture, Media,Sport , Business and people in the news. This is the only prestigious forum of its kind in Poland for informal high-level networking. The Club hosts its meetings in Warsaw and participation is by invitations.

Trade Information - Market research
Up to date, information about business and investments in Warsaw and Poland.

EXPORT/ IMPORT. PRODUCTS and MARKETS SOURCING.
WTC Warsaw offers sourcing services for companies wishing to buy Polish goods and services and for Polish companies looking to import/export goods and commodities. Additional services are Quality-Control, Transport, Shipping, Financing, financial guarantees ,Trade Negotiations and Agreements to facilitate transactions and keep smooth and successful cooperation between the parties.

BUSINESS MATCHMAKING, M&A, JOINT VENTURES
We believe that the most important element in finding a business partner is quality information. Everyday companies are going out of business, new companies are born, companies change direction and profile, old people are out, new management is in. You need reliable updated information. Tell us what you are looking for and we shall find you what you need. We don't just introduce you to local partners because they are in the same kind of business, but we screen them, meet them and check with them if they are interested to cooperate with your company and if they are able and capable to fulfil your expectations. Only when we are convinced that they are a reliable good company, we shall recommend them to you and arrange a meeting or a visit to the company, meet the owner or top management, supporting the negotiations and assisting to bring the deal to a successful conclusion.

OUTGOING TRADE MISSIONS
In cooperation with the Polish Chamber of Commerce, the Ministry of Economy and Foreign Embassies in Poland, the WTC Warsaw is organising trade missions
more...
which are business focused and are organised mainly around major trade events taking place in foreign markets. Organising Good-Will multi-sectors Business delegations in cooperation with Polish embassies, PAIH and Polish Chamber of Commerce.

SERVICES FOR INCOMING TRADE DELEGATIONS
Inviting local potential partners.
Arranging one on one B2B meetings with potential suppliers, buyers, distributors or potential partners after a special screening process.
Companies check.
Transactions and negotiation support.
Financing- providing financial guarantees.
Organise receptions , Trade exhibitions and business networking
Companies' representation

TRADE INFORMATION . MARKET RESEARCH. SPECIAL REPORTS
Up to date information, Financial analysis, Market research on businesses and investments in Warsaw and Poland.

WTC BUSINESS TRAVEL BIURO- MICE
The WTC Travel Agency specialises in VIP travel arrangements for flights and accommodations especially tailored for the needs of our VIP members and their companies.

TEMPORARY OFFICE SPACE, MEETINGS AND RECEPTIONS.
Modern space for business meetings and for small groups. free WiFi and fully equipped. Providing Excellent spaces for conferences and meetings fully equipped. Catering available up to 250 people. Assisting in Events organization and PR.
more...