Our Services:
Our WTC is a member of the WTC Association since 1990 and of the World Trade Point Federation since 2000. Both organizations are non governmental, established to promote trade, stability and peace, by assisting companies from around the globe to conduct business and have better information and support. The WTC Warsaw services are reciprocal to members of all the World Trade Centers, from around the world.

World Trade Center Warsaw - Ambassador Club
The World Trade Center Warsaw in cooperation with the Polish Chamber of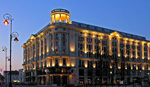 Commerce have established the Ambassador Club, at the famous Bristol Hotel. The Mission of this new club is to foster economic ties, cultural links, and friendship, by bringing together foreign ambassadors with Polish guests from Politics, Culture, Media,Sport and Business. This is the only prestigious forum of its kind in Poland for informal high level networking. The Club will host monthly meetings in Warsaw. The inauguration of the Club was on January 14th, 2009. By invitation only.

Trade Information - Market research
Up to date, information about business and investments in Warsaw and Poland.

Export-Import, International Trade, Product Sourcing
WTC Warsaw offers sourcing services for companies wishing to buy Polish goods and services and for Polish companies looking to import/export foreign goods and commodities. The WTC Warsaw also offers quality - control, transport, shipments, arrangement as well as other related services. The WTC Warsaw can also provide financial guarantees and financial documents to support any transaction, and to satisfy both the Polish and the foreign entities, in order to facilitate the transaction smoothly and fast.

Services for Incoming Trade delegations
WTCW can invite local potential partners based on the specific sectors required. WTCW can arrange one on one meetings with potential suppliers, buyers, distributors or potential partners after a special screening process to ensure effectiveness and direct talks that bring results. By making a research and making sure that the companies invited are aware of the business offered and are willing and able to conduct such business. The WTC Warsaw also checks the partners reliability and can support the transaction by providing financial guarantees. WTC Warsaw can also organize receptions and business networking, including organizing a mini exhibition of the delegation's offers and do follow up works with local representatives.
If the delegates did not succeed to find proper partner during the visit to Poland, the WTC Warsaw can act as their local representative and offers meetings, keeping samples and provide all necessary information until a deal is consumed.

Organizing outgoing delegations
In cooperation with the Ministry of economy and foreign embassies in Poland, the WTC Warsaw is
organizing trade missions
more...
which are business focused and are organize around major trade events taking place in foreign markets.

Business matchmaking M&A, International Joint Ventures
We believe that the most important element in finding a business partner is quality information. Everyday companies are going out of business, new companies are born, companies change direction and profile, old people are out new managements are in. You need reliable updated information. Tell us what you are looking for and we shall find you what you need. We don't just introduce you to local partners because they are in the same kind of business, their are many companies that are. But we screen them, meet them and check with them if they are interested to cooperate with your company and if they are able and capable to provide you with what you are looking for. Only when we are convinced that they are a reliable good company, we shall recommend them to you and arrange a meeting or a visit to the company, support in the negotiations and assisting to bring the deal to successful conclusion. This saves you precious time and money and have higher probability for positive results.